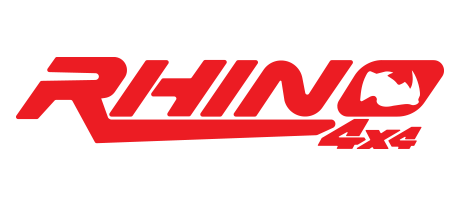 Rhino4x4 Evolution 3D front replacement winch bar.
Bull bars for 4×4 vehicles
The new range of industry-leading Rhino4x4 Evolution 3D 4×4 front bull bars are state of the art! These new bars give your vehicle an aggressive but modern 4WD feel without looking like a truck. They have tough, all-steel construction and give great frontal protection. The Evolution bar comes standard with winch compatibility, a flip-up number plate for easy access to the winch, 2 rated recovery points, a market-leading angle of approach and a heavy-duty bash plate.
The Rhino Evolution 4×4 bull bar comes loaded with great features, including:
Standard Inclusions:
5mm Aluminium Bash / Protection plate (not just a thin short stone shield)
Hinged number plate bracket to access winch area/Fairlead
Integrated LED Fog lights, quad lights, and indicators
Winch frame (no additional brackets required)
2 x Vehicle recovery points
But that's not all! You can also opt to have the bull bar colour matched to your 4WD, and add optional extras, including:
Optional:
Colour matched to your vehicle
Driving lights / Light bar
Light mount bar
Shackles
Winch
Industry-leading features
The Evolution Bumper is finished in a hard-wearing flat black powder coat and can also be colour-matched to your vehicle as an option. All the parts are now zinc plated before powder coating to ensure a long rust-free life. They are a 3mm and 6mm steel construction and include as standard a 5mm aluminium bash plate not offered on other brands. The middle winch plate insert comes standard in black or can be optioned as stainless steel or colour matched with the rest of the bar. We also offer, as standard, LED fog lights which are an extra on many other brands.
Our 4×4 bull bars meet the latest safety standards 
Safety is of the utmost importance, whether you're worried about your vehicle, family or your own safety. At Diesel Performance Tune, we only stock Rhino Evolution 4×4 bull bars that have undergone dynamic crash testing so they comply with existing ADR and safety regulations.
A  4×4 bull bar can help to prevent or minimise damage to headlights, grills and other parts of a vehicle, mitigating costly repairs or replacements altogether. Whether you're out on the road for a trip or heading home from work, you don't need to worry about your front bumper being damaged by larger rocks, falling trees or even unfortunate wandering animals. Investing in a 4×4 bull bar is about practicality as much as it is about aesthetics.
The benefits of 4×4 bull bars on the Gold Coast that you can find at Diesel Performance Tune go beyond physical safety. Not only do they offer security and peace of mind, but the style is aesthetically pleasing. Who doesn't love the sporty and sleek designs of a 4×4 bull bar on a 4WD? They don't look complete without it!
Expert installation
By investing in 4×4 bull bars from Diesel Performance Tune, you're also receiving industry-leading installation. Our expert mechanics and technicians are trained to install your new bull bar without any hassle, so you don't have to stress the little stuff.
The Rhino4x4 Evolution front bar is a complete replacement system, and no cutting of your original bumper is required. The standard bumper of your vehicle gets removed completely and can be saved or sold. We're dedicated to improving your vehicle in the most efficient and convenient way possible.
The Diesel Performance Tune difference 
We're here to help. That's why we'll work with you to get your vehicle in the best shape possible. At Diesel Performance Tune, we're a committed and passionate team of expert mechanics and technicians with years of experience in the field, ensuring that all customers get the best service possible. You can choose to have your 4WD kitted out with state of the art equipment at competitive prices. The Rhino4x4 Evolution front bar is expertly designed to protect your vehicle, while the exterior looks incredible.
Diesel Performance Tune — the best 4×4 bull bars on the Gold Coast
At Diesel Performance Tune, we're proud to provide high-quality products and in-depth services, including diesel tuning, ECU remapping, transmission remaps, wheel alignments and 4×4 bull bars.
For any additional information, browse through our helpful FAQs page. If you want to have the best looking 4WD in town, get in touch with us at (07 )5527 7207 and get your car booked in for your new Rival or Rhino 4×4 bull bar on the Gold Coast today!
I would like to extend my appreciation and thanks to Matt and everyone at Diesel Performance Tune. After taking my vehicle to another company and was over charged, poorly treated, and my oil leak never got resolved after 1 week and 2 visits.. Brought it to Diesel Performance Tune.. Really great customer service (Matt you rock). Very reasonably priced, honest crew and had my Navara back the next day..I will not be taking my vehicle anywhere else.. Best company in the GC, and not just by a small margin either..
Thank you VERY much guys. New customer here for sure ??

Mcdoogle Dutch

STOKED
Went to this place on recommendation from a few blokes. Great experience with these people!! Flexed and accommodated my needs with mods on the new build Toyota 79 series, there was so much unknown about what could and couldn't be done.
I now have a vehicle in my garage that I'm 100% happy with!!

Tehstick Man

GREAT EXPERIENCE
Took my 2021 Hilux down to DPT and the work was amazing. If you have a Hilux and want a little more push or just a remap to remove the dead spot in 2nd you need to call these guys! Every hilux should have this work done and changes it to a different vehicle. Extremely professional work and friendly staff.

Jeremy C
Rick and the team did a fabulous job upgrading my beloved 200 series. I have always loved my vehicle but love it even more now! Rick's professionalism and vast knowledge of the 200 series instilled confidence and trust. I am now a Diesel Performance Tune addict and can't wait for my next mod!

Natalie French
I was asked to contact this business by a third party to try and resolve an issue I had with my car's suspension. I was somewhat prepared for service that was so-so as I lived on the other side of the country and it was obvious that more than likely I would never cross their doorstep again once I had the problem looked at. That view could not have been further from the truth. Rick fitted me in to initially look at the problem and then spent an hour thoroughly diagnosing what may be the cause. He contacted two separate suppliers, arranged to have the parts delivered ASAP and again fitted me in first thing on the Monday morning to complete the job so I could be on my way. I cannot speak highly enough of this company and it's staff and it's approach to customer service. I would have no issue using them for any of the services that they provide and do not hesitate to recommend others to do likewise.

Rick V
When it comes to knowledge and quality workmanship you won't find any better on the GC. We originally took our ranger to these guys to fix something that had been incorrectly installed by another company and no one could correct this. From the first conversation these guys knew their stuff and were honest! And resolved my issue with one visit. We are so lucky we were referred to Diesel Performance Tune and take all our vehicles to these experts now. The staff are great to deal with and are honest good people. Anyone had enough of not getting value with who your using currently don't hesitate give these guys a call!

Jessica Sanders
Very professional outfit. I have a PK Ranger and it is hard to find centres who care about older vehicles these days. Rick, Eddie and the boys treated me like one of their high end Land Cruiser customers. I am mechanically minded and was able to really discuss my issues and findings with the vehicle which did not fall on deaf ears. Not only did they resolve my issues and breathed new life back into my old vehicle, they also repaired smaller less noticeable issues which were very inexpensive now but would have resulted in a lot more costly repairs down the track. These guys will be seeing me again 🙂 Keep up the great work.

Matthew Sonter
The diesel performance team did a great job with my hilux. I have had a reoccurring problem for years with the check engine light, limp mode and the hilux throwing codes that no mechanic was able to diagnose. The team was able to find the hidden broken wire, fix it and tune my hilux. It's been running great ever since. Would highly recommend this business.

Jessy Bloom
Rick, Eddy, and the team did a GVM upgrade on my Landcruiser 200 and were fantastic throughout the process. Thorough and very professional. Would recommend highly.

Joanne Riley
First of all I want to say a big thank you to Eddie and his team, im so impressed on the attention to detail and work they did on my 79 LandCruiser. The staff are very friendly, honest and extremely knowledgeable. Thanks again team and I look forward to getting future upgrades and work done.
Regards,
Dean from Apollo.

Dean T
Just picked up my turbo diesel iload, being a business owner vehicles off the road cost money, the boys did a professional job, highly informational and job completed in a couple days. Competitive price with excellent workshop and customer service, highly recommended. Thanks

Mark Ansems
What a customer service. So hard to find people willing to help.
Just a phone call, I was able to get an information that saved me wasting my money and time. Thank you so much. Super happy with my experience.

Mark Uzuelli
Have just had my 2012 Land Cruiser worked on by the guys at Diesel Performance & Tune. ECU remap, transmission remap, Stocklock transmission lockup, fuel manager 2 micron post filter, catch can, carbon clean, Scan gauge & transmission service. Ray & Eddy are great guys who patiently explained everything and answered all my questions. Car runs with much more power & torque now. Very professional job. Thoroughly recommend Diesel Performance & Tune.

Colin Price
Great service, Had my 4x4 tuned and some work done. Very knowledgeable bunch. Eti was very friendly and knew what he was talking about. Thanks guys for looking after me. I'll definitely be back if I need more work done. 10/10.

David Mackow
Just had my LC79 in for a bunch of power upgrades from the boys at DPT.
Cannot explain how happy I am with the Ute now, they have woken it up.
Excellent attention to detail, product knowledge and efficiency.
Look forward to the next time fellas.
Cheers

Jarryd C
Very impressed from start to finish!
Big thanks to Mat & Rick for all their info & experience. Ill certainly be bringing back my cruiser for more upgrades!??

Tara W
Rick and the team at DPT were excellent to work with, and feel they went above and beyond to ensure I was happy with all the modifications. They even had me back the week after to fine tune anything. Have been travelling Oz for 2mths now and very happy with everything they carried out.

Matt B